You explain to Lestrade how in the basement, there was this voice, and then this guy nearly giving you heart attacks when you went the wrong way. You describe his appearance to the best of your abilities, and Sherlock gets this look on his face.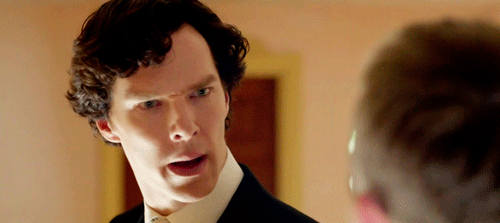 With those eyes....
And you realize you've been staring at him for maybe five minutes now? Both of them just kinda look at you.
Anyways, Lestrade thinks maybe your usefulness could be of more use. He explains how there was a murder. A man was found dead on Sunday morning. His wife called the police immediately. The police questioned the wife and house staff.
The wife said she was asleep.
The cook said he was cooking breakfast.
The gardener said she was picking vegetables.
The maid said she was getting the post.
The butler said he was cleaning the closet.
Whodunnit?
The wife
The cook
The gardener
The maid
The butler